Sexual Harassment
Attorneys Who Protect Employees
Sexual Harassment Lawyers in Sacramento
Illegal sexual harassment on the job may include the following:
Overt physical actions, such as unwanted touching
Implied or expressed coercion for sexual favors in exchange for advantages on the job, such as promotions or raises
Unwanted flirtations and/or jokes or teasing of a sexual nature
When such behaviors are persistent and your employer allows them to continue, you may be subjected to a hostile work environment. You have every right to expect this situation to stop, especially after you have reported the offenses to a supervisor, coworker, or government authority.
You may have a valid claim or lawsuit against your employer when your ability to work under these conditions is impacted.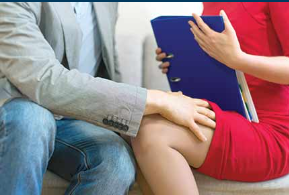 Laws Governing Sexual Harassment in California
As an employee in California, you are protected through both state and federal laws, including:
The California Constitution, which bans discrimination by public or private employers on the basis of sex, race, creed, color, and national or ethnic origin
California's Fair Employment and Housing Act (FEHA), Government Code Section 12940(j)( 1), which bans discrimination based on sex or sexual orientation, including intimidating or offensive behaviors, whether motivated by sexual desire or not
Title VII of the federal Civil Rights Act, which protects employees from severe and pervasive sexual harassment
These laws make it illegal for your employer to discriminate against employees based on their gender, and sexual harassment falls under this category of discrimination. You deserve to be free of either of these types of sexual harassment:
Quid pro quo: For example, has a senior manager or another employee demanded sexual favors from you in exchange for a promotion, a job, or another workplace benefit?
Hostile work environment harassment: Does a supervisor or another employee make sexually suggestive comments, gestures, or advances? Do they subject you to pictures, emails, texts, touches, or off-color humor that unreasonably interfere with your work performance?
Your employer can be held liable for failing to prevent this type of behavior, even if it comes from a nonemployee customer or an independent contractor.
A Broader Definition of Hostile Work Environment Harassment
Although the notion of a hostile working environment is often associated with sexual harassment, other protected categories can also form the basis of a valid claim, such as harassment based on race, age, mental or physical disability, sexual orientation, or medical condition.
As long as the harassing activities, taken as a whole, are severe and pervasive enough to alter the conditions of employment and create an abusive working environment, your employer can be held liable for any damages you may have incurred, especially if you have been fired as a result.
Retaliation Is Also Forbidden
It is a serious violation of the law for your employer to retaliate against you for reporting harassment to a manager or human resources, or to an outside authority such as the EEOC or DFEH.
If you are fired or demoted after complaining about sexually harassing behavior or conditions or other types of harassment, you may have an additional claim for wrongful termination.
What to Do if You Experience Harassment
If you are experiencing sexual harassment on the job or have been fired after complaining about it, protect yourself as follows:
Document the unwanted behavior (such as sexual advances, emails, letters, text messages, and displayed provocative images)
Contact us to talk with an attorney and explore your rights and options, including how to ask the offender to stop if your employment is continuing
Comply with your company's grievance process
Keep records of all phases of your case to protect yourself in case you experience retaliation
At Velez Law Firm, our Sacramento sexual harassment attorneys have extensive experience litigating sexual harassment cases of all types.
Case Results
Age / Gender Discrimination $5.2m Verdicts And Settlements
Medical Professional Disability Discrimination $1.8m Employment Discrimination
Retaliation For Use Of FMLA / CFRA Leave $1.5m Verdicts And Settlements
Age Discrimination $1.1m Employment Discrimination
Sexual Harassment Verdict / Judgment $1.1m Employment Harassment
African American Race Harassment $250k Verdicts And Settlements
Why Choose Us? See What Sets Us Apart
Unmatched Experience

With nearly 60 combined years of litigation experience, we have experience that cannot be duplicated. Our track record and client stories speak for themselves in showing the work we've done for our clients.

Aggressive Representation

When it comes to protecting workers, we don't pull punches. We're used to taking the fight to larger opponents and are committed to empowering our clients to make choices, not concessions.

Client-Focused

While our attorneys are top-tier, we remain focused on our clients. We work directly with our clients and focus our approach on their stories and experiences. Our attention to detail and care continues to set us apart.
Free Consultations Available
Contact Our Offices
Reach us by phone at (916) 507-2223 or send an email inquiry to get the conversation started.